Christopher Gross has been named Executive Chef at Wrigley Mansion, Phoenix, Az.
Please join him for our final wine dinner, Jan 17, 6:30pm, and final dinner Jan. 27, at Christopher's Crush.

Find our menus here.

"One of the Top 10 New Restaurants in the U.S. – a triple threat from Chef Christopher Gross: an upscale but casual bistro, the Crush Lounge wine bar and a high-end restaurant."
-gayot.com
photo credit: Carl Schultz

Chef Christopher Gross
James Beard award winner Chef Gross' culinary endeavors continue with Christopher's & Crush Lounge, which has consistently earned awards locally and nationally. Most recently, Christopher won the 2016 Lifetime Achievement Award from the Scottsdale Culinary Hall of Fame and was named Best French Restaurant 2015 from Phoenix New Times, earned the 2015 Award of Excellence from Wine Spectator, and a Diner's Choice Award from Open Table. Additionally, Christopher's was named one of the Top 10 New Restaurants in the U.S. by Gayot.com, Best New Restaurant by William Rice of the Chicago Tribune, and Best New Restaurant by John Mariani of Esquire. Food & Wine Magazine named Chef Gross one of America's 10 Best New Chefs, and Perrier Jouet and the James Beard Foundation named Christopher Best Chef Southwest. He was the first chef in Arizona to be honored with the Robert Mondavi Culinary Award of Excellence. Christopher has been featured on numerous panels with Jacques Pepin and Julia Child at the Food & Wine Classic in Aspen. He and his recipes have appeared in cookbooks, including the Julia Child PBS series and cookbook "In the Kitchen with Master Chefs." He has been a featured chef for the James Beard Foundation Dinner of the Decade, and cooked for Presidents Ford, Reagan and Bush, Vice President Al Gore and House Speaker Nancy Pelosi.
Christopher was a founder of the Arizona chapter of the American Institute of Wine and Food (AIWF), is on the National Board for the American Liver Foundation, has served as co-chair of the American Liver Foundation's "Flavors of Phoenix," and was Chair of the Share Our Strength's "Taste of the Nation." He was also on the National Advisory Boards for the James Beard Foundation and for the Art Institute of Phoenix.
Christopher has been known to step up at the last minute to make dinner for Martha Stewart, cook in his personal kitchen with Julia Child, and graciously demonstrate how to make his most famous dish, Pied De Cochon, pigs feet, for media. He's a favorite among locals, winning many "Best Restaurant Awards" from AZCentral, Arizona Foothills Magazine's Best of Food and Wine, and Best Of Reviews and Awards from Phoenix New Times. AZCentral.com critic Howard Seftel called Christopher's & Crush Lounge one of Arizona's finest dining establishments. His spirited interviews almost always tend to reveal the personal side of Christopher.

photo credit: michaelmcnamaraphoto.com

Paola Embry
Chilean Wine Country is known for its abundant land, world-class wines and tight knit wine community. It is also known for giving us one of the nation's most respected female wine sommeliers, Paola Embry. Born and raised in the Vina Del Mar region of Chile, it has been said that the passionate sommelier has wine, not blood, flowing through her veins! Well-versed and spirited, Paola is far from the staid sommeliers of the past. With her depth of knowledge and sharp palate, she has created a spectacular award-winning wine list for Christopher's & Crush Lounge. The impressive wine list includes many of the world varietals at wide ranging price points– it's a list that has earned the "Best of Award of Excellence" from Wine Spectator Magazine for nine consecutive years.
Paola is a sought after expert by Crystal Cruise, Silver Seas, and Cunard Cruise Lines, hosting numerous wine lectures and tastings. She has been on the advisory board of Santé Magazine, and has written for Santé, Wine Enthusiast, Arizona Republic, 944 Magazine and CityAZ Magazine, and has appeared on a many television and radio programs. She has completed the Introductory Sommelier Course, the Certified Sommelier Exam and taken the Advanced Sommelier Course. In addition, she has earned the Certificat de Merite from Le Comite National des Vins de France and a Degree of Honor from Les Amis du Vin International Wine Society. She was one of a select few to be inducted into the prestigious Confrérie des Amis du Bontemps in Bordeaux, France.
Approachable and with a sense of humor, Paola tells more about herself, her wine preferences and her hobbies in the local press. Read about some of her opinions in Phoenix New Times on wine trends, or on picking stemware, about how she met Christopher in Wine Enthusiast Magazine, about her passion for travel and her path to wines in Arizona Foothills Magazine, and how she and Christopher make great partners even after divorce, in The Arizona Republic.
Together, Paola and Christopher have created one of the most renowned restaurants in the Southwest and one of the most influential and award-winning wine cellars in the nation.
Hip but comfortable. Elegant, yet cool and casual. Whatever dining experience you're looking for, you'll find the best of both worlds here. Christopher's & Crush Lounge offers a menu that blends classic French dishes with a modern flare for the American taste. If you just want to graze, the sleek Kitchen Bar overlooking the exhibition kitchen is the perfect vantage point to enjoy one of the many menu favorites, from specialty pizzas, to burgers, to smoked salmon and pasta, all prepared before your eyes.
For more upscale dining, contemporary furnishings, orange and black accents, exposed ceilings and tall glass panels, as well as a narrow, see-and-be-seen front room create an open, airy setting for any occasion; a glassed in enclave with a quieter back room is ideal for private parties.
C-144, the ultimate "Chef's Table," will make you and your guests feel special. Glass walls and a view of the open kitchen make this an intimate experience for business or pleasure. Tasting menus designed by Christopher are available for the adventurous, and can be designed with wine pairings by Sommelier Paola Embry. Paola has curated an extensive and varied award-winning wine list that spans the globe.
If you're looking for a cocktail, Crush Lounge offers a sleek and modern decor where you can meet your friends and co-workers in style. For Happy Hour or after dinner drinks, it's expansive global wine list and expert mixologists will impress. And when the weather is great, so is the patio dining, where you can snack on appetizers and enjoy drinks, or indulge in a full meal in a casual, comfortable setting.
Whatever your mood, whatever you're craving, it's here.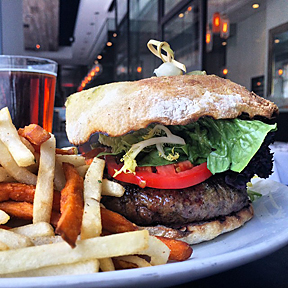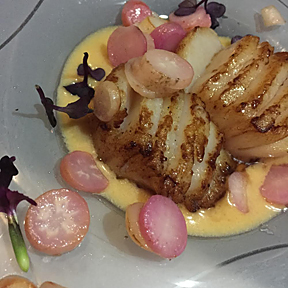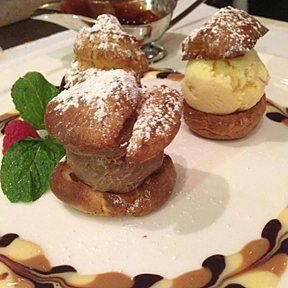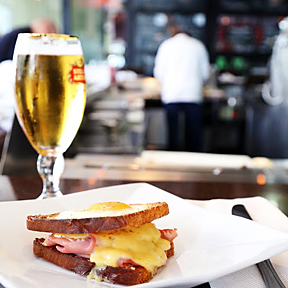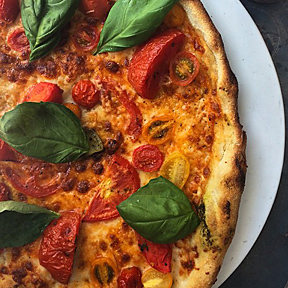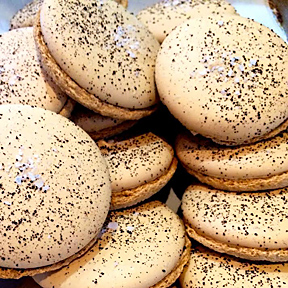 C ome try our re-energized menu! We've kept all your cult favorites, like pizzas, cheeseburgers and truffle fries, and added creative small plates that have become wildly popular. Yes, this is Christopher's. And no, it doesn't have to be expensive! We offer a daring menu of fun and inspiring American Contemporary French-inspired fare.
For grazers, enjoy Petit Plates, perfect for sharing and starting at $5. The menu includes a Smoked Salmon BLT, Curried Duck Confit with Straw Frites, Pigs Feet and Chicken Wings and so much more. If you are craving the Red Bell Pepper soup or Wild Mushroom Soup, Christopher's Duck Two Ways, or his mouth-watering Smoked Truffle Infused Filet Mignon, these are all-time favorites and available to you. You can try to leave without dessert, but it's tough! Christopher's famous Chocolate Tower, Cheesecake, Profiteroles or an inspired cheese plate are all too tempting.
Crush Lounge
Wine Director Paola Embry brings her own special touch to Crush Lounge, which offers a separate but just as inspiring ambiance and fare, complimented by an impressive wine bar with a list of about 200 labels and 70 wines by the glass. It has earned the "Award of Excellence" from Wine Spectator Magazine for nine consecutive years. But don't feel like you've got to be a wine connoisseur to enjoy Crush. Paola travels the world to find fun and interesting wines that taste great and have complexity but are not necessarily pricey. She has designed Crush to be a place where the wine novice can enjoy wines as much as the connoisseur.
Before or after dinner, slip away to a sensuous setting and forget everything else. Sip a glass of wine, Champagne, or a signature Crush cocktail and explore the possibilities.
Happy Hour
Everybody loves a good Happy Hour and ours rivals the best of 'em! You'll love relaxing in Crush or taking a seat around the kitchen bar and watching the action of an open kitchen. To name a few, we've got pizzas from our wood burning oven, like Wild Mushroom Pizza with Shallots and Arugula, or if salads are more your thing, we've got a Spinach Salad, or Filet of Salmon Salad. Of course our fabulous hamburger/cheeseburger always make the Happy Hour menu.
So stop by seven days a week, 3-6 pm, pull up a seat and we'll pick up half the tab.
You dream it, we will make it happen. Let us cater to you in-house or at your location. Whether it's intimate or enormous, fancy or simple, indoors or out – our experienced staff will work closely with you to make your event memorable and fit your budget. Our venue is perfect for holiday parties, celebrations, and business events. Our options are plentiful!
C144: Our ultimate Chef's Table for up to 10 guests at your private event. Glass walls make it a place to see and be seen while keeping it intimate and unique.
Middle Room & Main Dining Room: Seat up to 26/50, respectively. Beautifully contemporary, our rooms can be configured in several ways and can accommodate audio/visual presentations, for 20/38 guests for your business event.
Crush Lounge Private Parties: The perfect cool yet elegant venue for 50 guests indoors with an additional 20 on the patio. The inspiring ambiance is complimented by Christopher's fare, our creative cocktails and a wide-ranging wine list that consistently wins the Award of Excellence from Wine Spectator Magazine.
Take over Christopher's: The entire restaurant can be yours, accommodating up to 125 guests for plated meals (not including Crush). We can transform our place to your liking, rearranging our space to captivate your guests with creative planning.
Off-site Catering: We love to come to you, too! If you've got a place, we can make it work. At your home, a park, your office…we can cater everything from a full sit-down dinner with Chef Christopher Gross present, to simply delivering hors d'oeurves, to any catering service between. Our goal is to work with you and make sure your guests enjoy a most memorable event!
IfOnly: Find Chef on IfOnly, which offers unique experiences to members. Benefiting the James Beard Foundation, Christopher is available for private cooking demonstrations at your residence. See your options at IfOnly.
For more detailed catering information, please see our Catering Flyer or Dinner Package or contact ChristophersCateringaz@gmail.com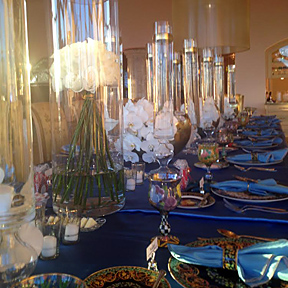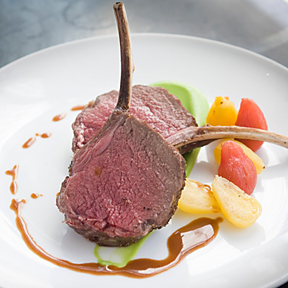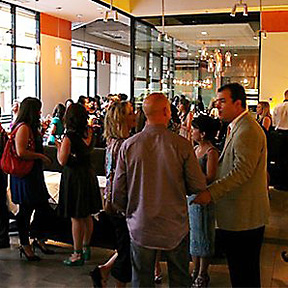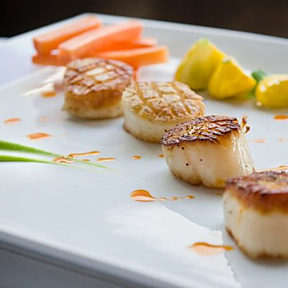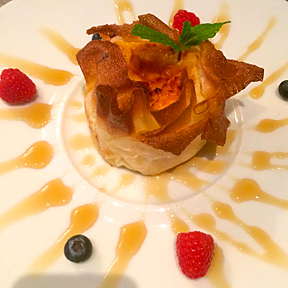 Christopher has been around! See Chef's more personal side in these photos…
Hours of Operation:
Open 7 days a week.
Christopher's main dining room:
Monday, Tuesday: 11 am-9 pm
Wed-Saturday: 11 am-10 pm
Sunday: Noon-8 pm
Happy Hour
7 days a week, 3-6 pm
Join us at the kitchen bar for discounted food & drinks, or in Crush Lounge for discounted drinks and additional menu items.
explore the possibilities